Main information:
Welcome to Neuschwanstein Castle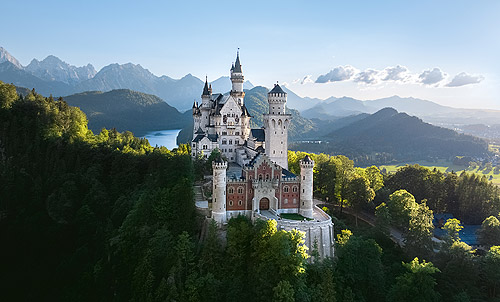 Current information
In order to protect our staff from COVID-19, it is still mandatory to wear a medical face mask.
Visitors without the appropriate mask must unfortunately be refused entry; this also applies if a medical certificate is presented.
Children up to their sixth birthday are exempt from the mask requirement.
---
A visit to Neuschwanstein Castle is only possible as part of a guided tour.
Tickets for Neuschwanstein Castle are available online at www.hohenschwangau.de and on premise at the Ticket Center Hohenschwangau (limited capacities).
The inner courtyard of the castle can currently only be visited as part of the castle tour.

News about the restoration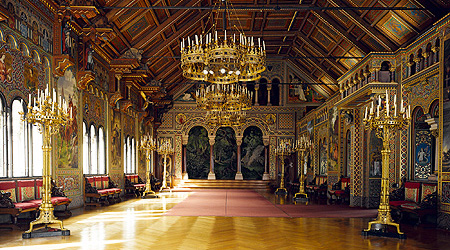 The labour-intensive restoration work on the unique works of art, which began in 2017, is gradually taking place in all the showrooms, ancillary rooms and functional rooms accessible to visitors. The famous Singers' Hall and the magnificent Throne Hall have already been completely restored. The entire work is expected to be completed in the course of spring 2024.
All rooms can be seen on the castle tour, although we would like to point out that the restoration work is currently taking place primarily in the actual living quarters of the king (bedroom, dressing room, salon, study and adjutant's room). As a result, much of the furniture has been removed and scaffolding clearly obstructs the view of the walls and ceilings.
From 2023 onwards, it will not be possible to visit all the rooms in the King's Apartment at times.
We ask for your understanding for the restrictions.
---
Short film about Neuschwanstein Castle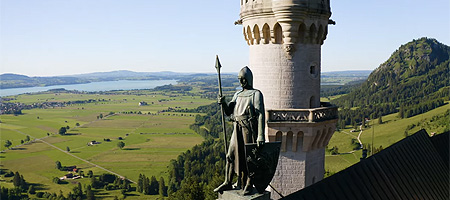 to the film "Schloss Neuschwanstein" on YouTube
| top |
Important information
The visit of Neuschwanstein Castle is only possible with a guided tour.
Rucksacks, prams, child carriers, and similar bulky objects may not be taken into the castle. Please leave these items in your car or bus.
No photographing or filming is allowed in the castle. Photo and film shootings are basically subject to approval and charges. Here you will find information on photography permits / film permits. Taking pictures of the outside of the buildings for private use does not require a permit.
Neuschwanstein Castle is on the edge of the Ammergebirge nature reserve; it is therefore not permitted to fly model planes or drones /multicopters.
Animals are not permitted in the castle.
The Marienbrücke in winter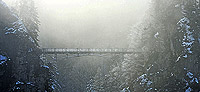 Please note that during the winter months the Marienbrücke, the bridge over the Pollät gorge, may have to be closed in bad weather.
The way to the castle and the guided tours are not affected.
Information on whether the bridge and the route to it are open can be found on the website of the Hohenschwangau Ticket Centre: www.hohenschwangau.de.