Main information:
Welcome to Neuschwanstein Castle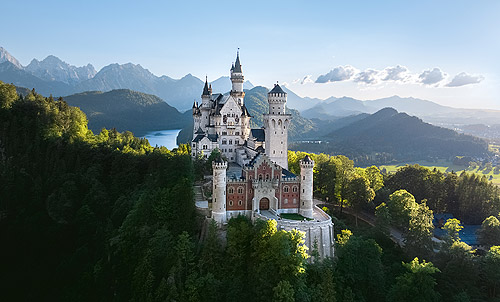 Current information / Coronavirus
To ensure neither our guests nor our staff are endangered by COVID-19, FFP2 masks are still mandatory in our houses. Children and young people between the ages of six and 16 only need to wear a medical face mask.
Visitors without the appropriate mask must unfortunately be refused entry; this also applies if a medical certificate is presented.
Children up to their sixth birthday are exempt from the mask requirement.
Here you will find further information and FAQ.
---
A visit to Neuschwanstein Castle is only possible as part of a guided tour.
Tickets for Neuschwanstein Castle are available online at www.hohenschwangau.de and on premise at the Ticket Center Hohenschwangau (limited capacities).
The inner courtyard of the castle can currently only be visited as part of the castle tour.
News about the restoration
Preserving all the features of Neuschwanstein Castle intact is an ongoing task. Therefore, restoration work and restoration investigations are currently taking place. The work is expected to last until 2024.
Nevertheless, all rooms can be seen on the castle tour.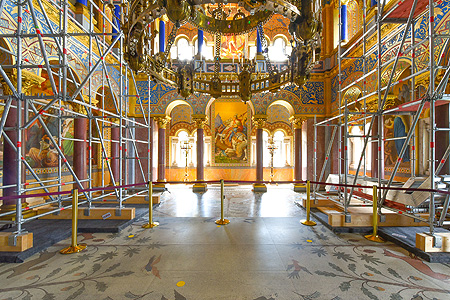 As part of the ongoing restoration work, the enormous chandelier in the Throne Hall is currently being restored. For this purpose, it has been lowered onto a working platform and provided with a perimeter barrier. However, it is possible for visitors to literally "look over the shoulders" of the restorers as they work through the glazing. Work on the chandelier is expected to continue until summer 2022. We ask for your understanding for the restrictions.
---
Short film about Neuschwanstein Castle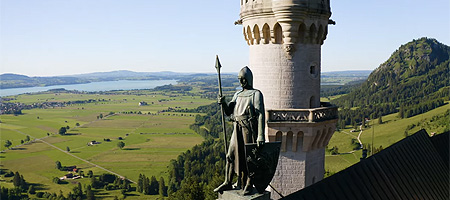 to the film "Schloss Neuschwanstein" on YouTube
| top |
Marienbrücke closed
Due to extensive renovation work, the Marienbrücke is closed until further notice.
Important information
The visit of Neuschwanstein Castle is only possible with a guided tour.
Rucksacks, prams, child carriers, and similar bulky objects may not be taken into the castle. Please leave these items in your car or bus.
No photographing or filming is allowed in the castle. Photo and film shootings are basically subject to approval and charges. Here you will find information on photography permits / film permits. Taking pictures of the outside of the buildings for private use does not require a permit.
Neuschwanstein Castle is on the edge of the Ammergebirge nature reserve; it is therefore not permitted to fly model planes or drones /multicopters.
Animals are not permitted in the castle.