Main information:
Welcome to Neuschwanstein Castle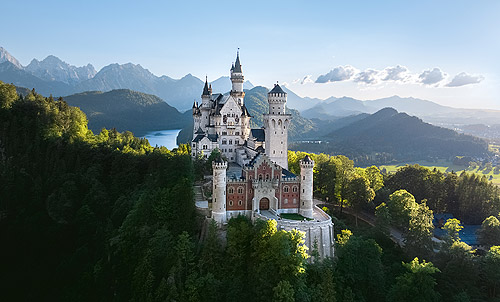 Current information / Coronavirus
For a visit to our sights, the 3G rule applies if the 7-day incidence determined by the competent district administration authority is above 35, i.e. all visitors must either be
vaccinated against Covid-19
(with a vaccine authorised in the EU),

recovered from Covid-19 or

tested negative.
Proof of a negative PCR test (maximum 48 hours old) or rapid antigen tests / self-tests under supervision (maximum 24 hours old) must be BROUGHT ALONG.
No tests will be offered or proof issued on site!
Children up to their sixth birthday, pupils who are subject to regular testing as part of their school attendance and children not yet enrolled in school are exempt from compulsory testing.
You will need to bring appropriate proof (written or electronic).
Here you will find further information and FAQ.
---
A visit to Neuschwanstein Castle is only possible as part of a guided tour. Please note that the group sizes had to be significantly reduced due to hygiene regulations.
Tickets for Neuschwanstein Castle are only available online at:
www.hohenschwangau.de
Please take into account considerable waiting times and restrictions such as altered routes or room closures.
The multivision room and the lift are currently not available. The inner courtyard of the castle can currently only be visited as part of the castle tour.
News about the restoration
Preserving all the features of Neuschwanstein Castle intact is an ongoing task. Therefore, restoration work and restoration investigations are currently taking place. The work is expected to last until 2023.
Nevertheless all rooms are accessible for visitors.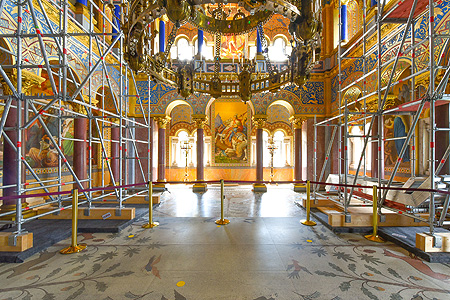 Scaffolding has been erected in the northern area for the restoration work currently underway in the Throne Hall; the work on the wall and ceiling surfaces of the Throne Hall is expected to last until spring 2022. We ask for your understanding for the restrictions.
| top |
Marienbrücke closed
Due to extensive renovation work, the Marienbrücke is closed until further notice.
Important information for visitors
The visit of Neuschwanstein Castle is only possible with a guided tour.
Rucksacks, prams, child carriers, and similar bulky objects may not be taken into the castle. Please leave these items in your car or bus.
No photographing or filming is allowed in the castle. Photo and film shootings are basically subject to approval and charges. Here you will find information on photography permits / film permits. Taking pictures of the outside of the buildings for private use does not require a permit.
Neuschwanstein Castle is on the edge of the Ammergebirge nature reserve; it is therefore not permitted to fly model planes or drones /multicopters.
Animals are not permitted in the castle.