Main information:
Welcome to Neuschwanstein Castle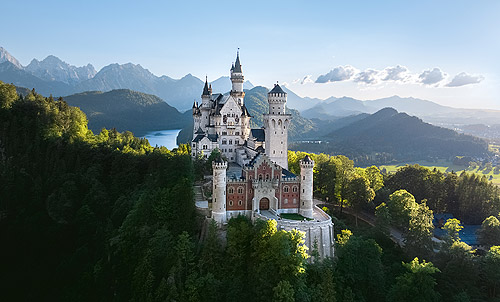 Current information
A visit to Neuschwanstein Castle is only possible as part of a guided tour.
Tickets for Neuschwanstein Castle are available online at www.hohenschwangau.de. Remaining tickets are available on site at the Ticket Center Hohenschwangau, subject to availability and exclusively for the same day. Reservations are no longer possible.
---
Due to ongoing restoration work, filming in the interior of Neuschwanstein Castle - even outside regular opening hours - is unfortunately not possible until further notice.

News about the restoration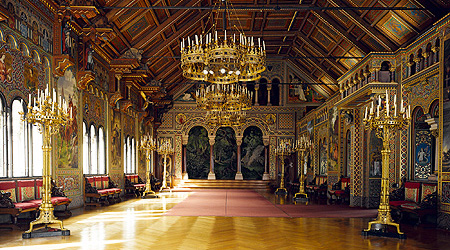 The labour-intensive restoration work on the unique works of art, which began in 2017, is gradually taking place in all the showrooms, ancillary rooms and functional rooms accessible to visitors. The famous Singers' Hall and the magnificent Throne Hall have already been completely restored. The entire work is expected to be completed in the course of spring 2024.
Until summer 2023, the bedroom, the dressing room, the living room and the grotto will unfortunately be closed to the public. In order to nevertheless give visitors an impression of the rooms, an 11-minute film on these rooms will be shown in German with English subtitles after the palace tour.
We ask for your understanding for the restrictions.
---
Short film about Neuschwanstein Castle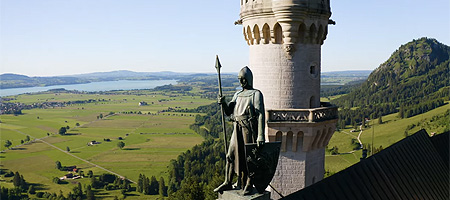 to the film "Schloss Neuschwanstein" on YouTube
| top |
Important information
The visit of Neuschwanstein Castle is only possible with a guided tour.
Rucksacks, prams, child carriers, and similar bulky objects may not be taken into the castle. Please leave these items in your car or bus.
No photographing or filming is allowed in the castle. Photo and film shootings are basically subject to approval and charges. Here you will find information on photography permits / film permits. Taking pictures of the outside of the buildings for private use does not require a permit.
Neuschwanstein Castle is on the edge of the Ammergebirge nature reserve; it is therefore not permitted to fly model planes or drones /multicopters.
Animals are not permitted in the castle.