Main information:
Neuschwanstein
Neuschwanstein today –
Record numbers of visitors and preservation problems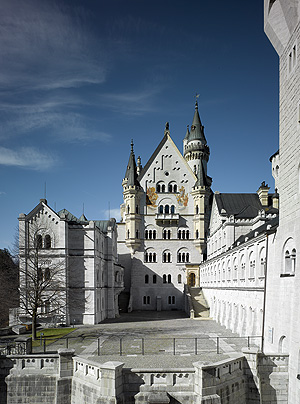 Seven weeks after the death of King Ludwig II in 1886, Neuschwanstein was opened to the public. The shy king had built the castle in order to withdraw from public life – now vast numbers of people came to view his private refuge.
Today Neuschwanstein is one of the most popular of all the palaces and castles in Europe. Every year 1.4 million people visit "the castle of the fairy-tale king". In the summer around 6,000 visitors a day stream through rooms that were intended for a single inhabitant. This – in combination with the alpine climate and light – leads to considerable stress on the valuable furniture and textiles, which we are working hard to preserve.
The setting of Neuschwanstein could not be more idyllic. However, movement in the foundation area has to be continuously monitored, and the sheer rock walls must be repeatedly secured. The harsh climate also has a detrimental effect on the limestone façades, which will have to be renovated section by section over the next few years.